Thanks to the technologies and expertise of the different Gendreau Group business units, we produce 3 types of hot ready meals :
_Long-life ready meals
_Fresh ready meals
_Airline meal trays
Grocery section ready meals
We have a wide range of shelf-stable products: ready meals, purées, soups, sauces, cooked pasta and more. French and world food, meat and fish, conventional, organic, vegetarian…there are many possibilities.
We use practical packaging in a variety of formats to suit all eating habits and mealtimes: single or double compartment trays, bowls, cups, etc.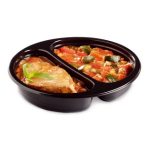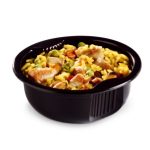 Our commitments
_Dishes cooked with respect for the ingredients and flavours
_Fast and convenient products
_Recipes designed to meet essential nutritional needs
_Dishes developed as close as possible to home-made recipes (reduced additives, salt and fat)
Choose from our recipe catalogue or let us know what you want !